Find Genuine Ford Auto Parts Here in Hackensack to Keep Your Car Running for Many More Miles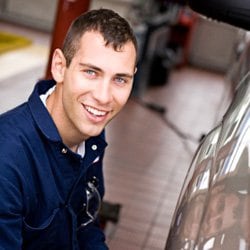 How can you easily keep your Ford running in its best shape for several more miles and years than you might expect? Choose Genuine Ford Parts, as these manufacturer-approved components are designed for your specific model. Furthermore, the parts experts at our Hackensack, NJ Ford dealership serving Paramus, Teaneck, Bergenfield and Garfield know how to get what you need for your exact make and model, providing a far more trustworthy option compared to aftermarket parts sellers. Be in touch and let us know what you need, and we'll outfit your Ford with the best fitting parts to keep you on the road.
Matching your specific model up with the right fitting parts is one of the best ways to ensure a long-lasting vehicle. Chances are you're not a gearhead, and wouldn't know when you need parts replaced. That's where regular visits to our service center show their worth. As we handle a quick oil change or regularly scheduled overall inspection, our service techs will diagnose problems with specific parts, like brake pads, calipers, rotors or anything else. While not putting pressure to replace something right away, we'll give you our straightforward recommendations for when you need to buy a specific part, and get it installed by the best technicians around.
This is yet another essential cost of car ownership. But we'll help you out by offering these parts specials that you can use whenever you need something replaced. So whether it's a headlight bulb or a new set of windshield wipers, or something more important for your suspension system or brakes, you'll be able to find some great savings here online.
While keeping your car running at its best shape, trust in the best Genuine Ford Parts and the staff who can hook you up. Visit All American Ford of Hackensack today and learn more about our wonderful parts department.