Why Our Hackensack Ford Dealership's Service Station is the Best Place for Auto Maintenance and Repairs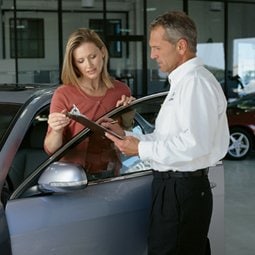 When it comes to keeping your Ford in its best shape, you'll want the best of the best. That's what you'll find at the service center we feature here at our Hackensack, NJ Ford dealership serving Paramus, Teaneck, Bergenfield and Garfield, and you'll quickly learn why we're the best option for all kinds of routine maintenance and repair work. It's easy to sign up for an appointment and we'll always be here to answer your frequently asked service  questions if you want to find out more.
While we're happy to work on any kind of car, our real expertise is in the way we maintain and repair Ford models. Our staff members have been thoroughly trained to the point of actual certification, and with years upon years of expertise when it comes to working on Ford models, you'll have a trusted resource right here in Hackensack for all things from simple oil changes, to major repairs, and everything in between. In addition to our state of the art facility, we use the best Genuine Ford Parts, so when it comes to repairs, you'll have the best replacements here waiting for your car.
After you find out how easy it is to schedule a service appointment, you'll enjoy the amenities we offer if you choose to wait for a quick oil change, or you'll notice how efficiently we take care of any other kind of job, so you're not without your car for too long. One of the best reasons to choose our Hackensack dealership is our many service and parts specials offered. These change out from month to month, so be sure to check those out before each appointment.
For keeping your car running in its best shape, choose the service center here at All American Ford of Hackensack and come on over today to get started.